There's a saying in sales to "Sell the sizzle, not the steak."  That's a maxim I try to remember whenever talking with a client about advertising photography. Then remember again when actually creating their images.
Another cliche is "A picture is worth a thousand words" which, if true, means that a photograph must pack serious power.
As an example of selling the sizzle, consider a photograph I created several years ago for the R.E. Whittaker Company of New Castle, PA.   The company makes industrial floor and carpet cleaners and has a national reputation for excellent equipment.  Their gear performs the job of cleaning very well and has many attachments, making it versatile, as well.
I had already been creating standard catalog photographs for them for a few years when Mr. Whittaker asked about creating a new cover photograph for their upcoming ad campaign and product catalog.  It suddenly struck me that the glorified product photo we were discussing was merely another catalog shot, just beautified and not as impactful as it could be.
Summoning my courage I said, "Your clients don't buy your machines just to own your machines."  (the steak)
Surprised, he asked, "What do you mean?".
"They buy them so they can have clean floors!" I replied.  (the sizzle) "I want to design a photograph to demonstrate what they'll get if they buy your equipment."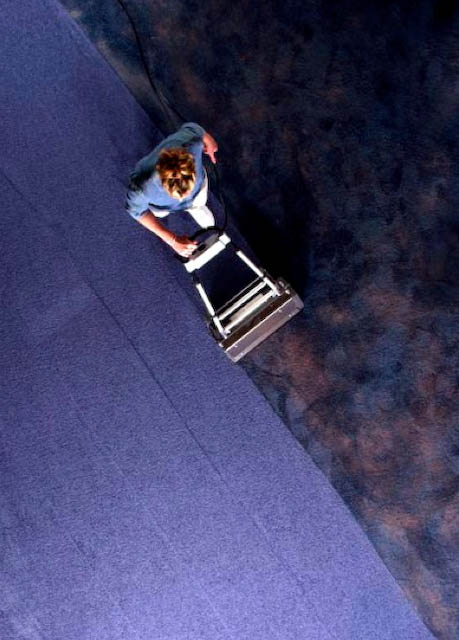 To my relief and excitement, Whittaker took the risk, trusted me, and commissioned exaclty that! 

My team and I built a set in a warehouse in New Castle, laying down a 20×24 ft subfloor, topped by a section of carpet, dirtying the carpet up, and then making half of it sparkling clean as a demonstration of the equipment's abilities.  I photographed the set from a JLG high-lift about 30 feet overhead.
The R.E. Whittaker company won a national marketing award from their professional association for that advertising image, because it spoke to viewers in a new way, breaking the boundaries for that industry's imagery.  In other words, it had sizzle!
To see how Jeff Behm Photography adds sizzle to your advertising, visit "Food" in the Blog Menu at the top of the page. Or visit https://www.behmphoto.com/from-here-to-there-food-photography-behind-the-scenes/
To discuss your advertising photography and how to find your sizzle, call Jeff Behm Photography at 724-730-8513, or email jeff@jeffbehm.com.  By all means, please review the work we've done for others at www.jeffbehm.com