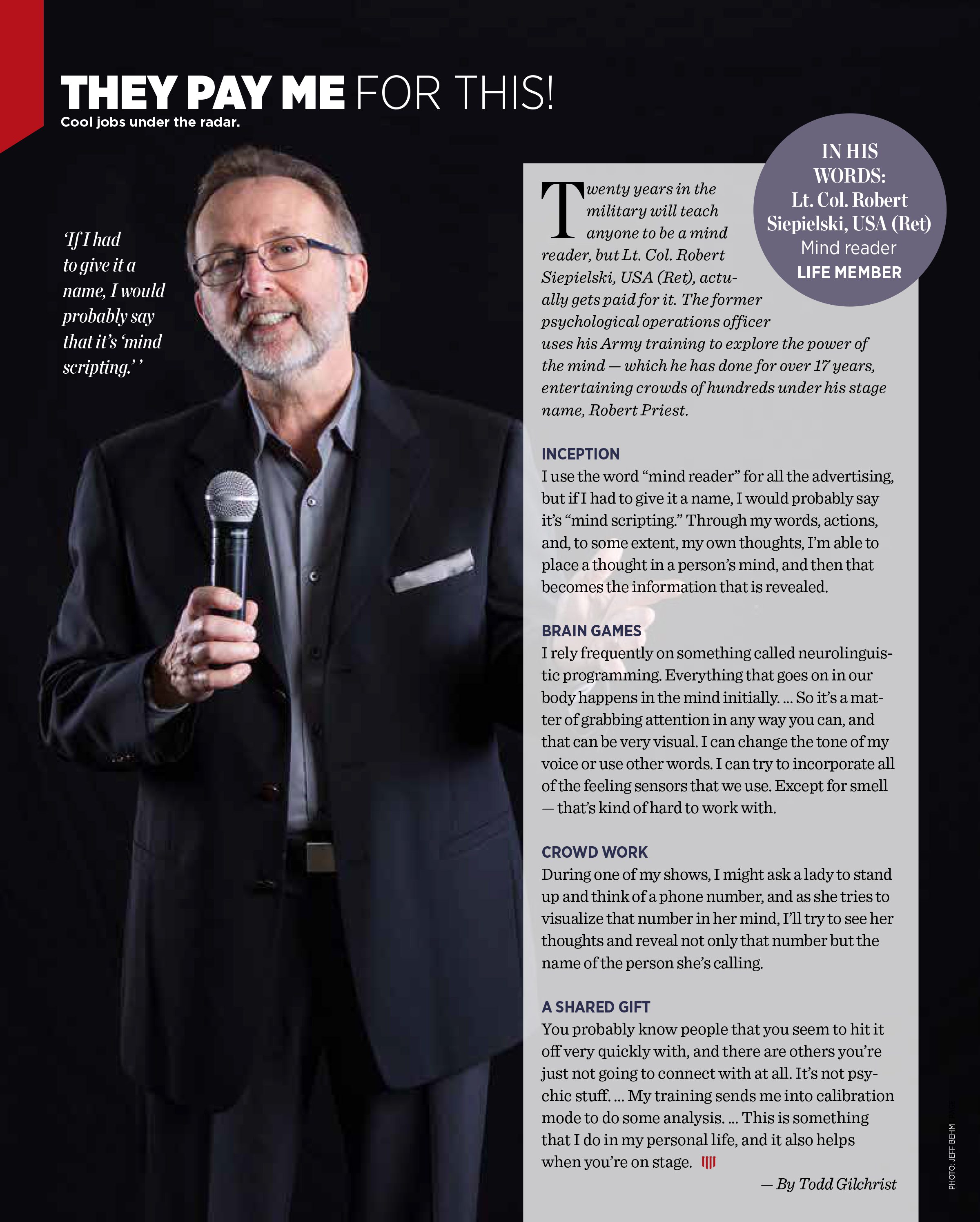 A few months ago, I got a call from a publication of which I'd been unaware until that moment, MOAA, which stands for Military Officers Association of America. Its purpose is to provide retired military officers with information and many of the skills necessary to manage their retirement in good order.
MOAA's magazine was requesting that I photograph one of their members in a way that might demonstrate how he was using his talents in his second career.
"Love to. What career is that?" I asked.
"He's a mind reader," they replied.
"Uhmmm, sure." Meanwhile, I'm suffering a total brain cramp.
Regardless, I said yes, we negotiated a fee, they provided me with the requirements to meet the needs of the page layout and put me in touch with Robert Priest, the mind reader.
Speaking of "reading" you can read his take on his profession and his self determined job title in the photo, but even he agrees that "mind reader" is the quickest way to make the point.
One of the magazine's suggestions was a theatrical stage setting. Not having a stage myself, nor access to one without additional rental fees beyond the budget, I determined to create a stage-like set in my rental space, with a 20 foot wide black muslin stretched between multiple background stands. It provided the common look of many a stage with black curtains and gave Robert some space in which to act out his routine while I photographed from a tripod using a wide lens. That way I could create as much width as they might need to lay down copy, with him on the left. It was not determined at that time whether the photo would be a one page or two page spread, so I had to provide the width, from which they could crop as needed.
Robert Priest is a pleasant and charming guy, and was most cooperative with the many different movements and refinements I requested of him as we worked our way through his routine, seeking the image that, to him, best represented his persona. We had immediately dismissed the hackneyed "fingers to the temple, eyes closed, as if contemplating the beyond". In fact, we never took one photograph like that, because we both felt it was just as hackneyed as the phrase describes, and in no way was it what he wanted to present.
The attached tear sheet was sent to me by Robert with his thanks, a much appreciated gesture. And my additional thanks to Robert and MOAA for the opportunity.
A few of the other frames from the many we created for Robert.
At Jeff Behm Photography, we consider ourselves to be image consultants and troubleshooters. How do you present yourself to your market? Call us at Jeff Behm Photography, 724-730-8513 or email jeff@jeffbehm.com