December proved to be too busy for everyone who expressed interest in this class, what with preparations for the Holidays, travel, visits, etc., so we postponed Beginning Photography to the last three Saturdays in January 2015, or the 17th, 24th and 31st.
Do you have trouble interpreting your camera's instruction manual, getting the photos you want at the proper moment?  Do you just want to know more – like how to use the different modes, whether a better flash would help, how to meter and use different light, control the light, manage your storage media and properly load images into your computer safely?  If you answered "yes" to any of these questions, this is your class, still only $200 for the whole series.  Since we have to rent the space, please pre-register by January 14.
Photography Class for Digital Beginners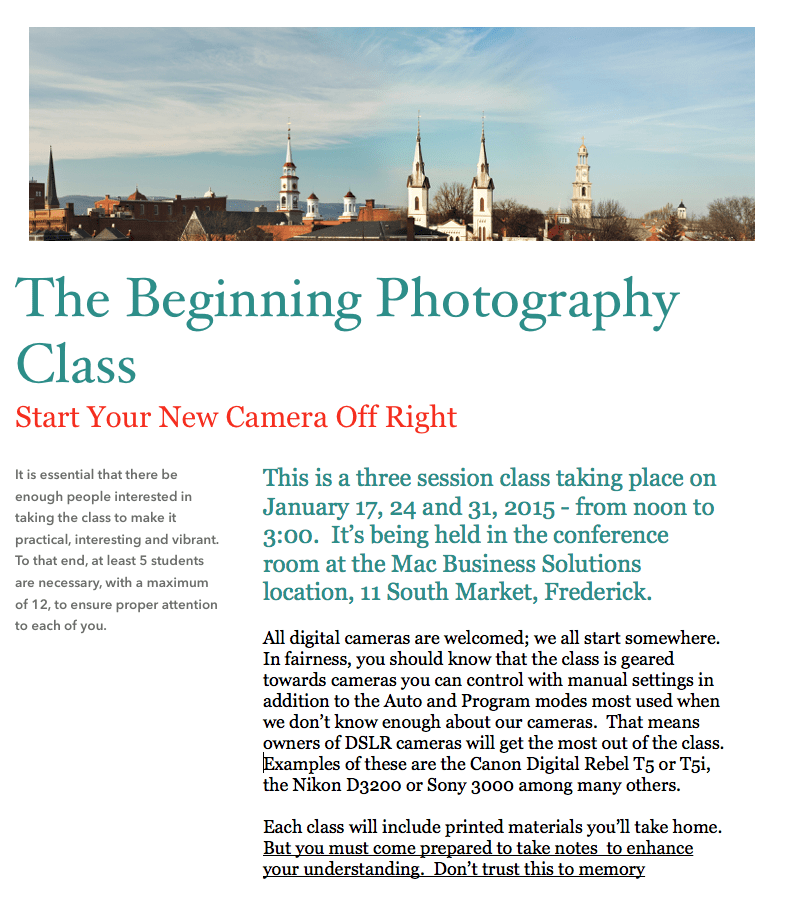 The class itinerary:
Week 1:
Interpreting your owner's manual
Controls – What and where?
Terminology – What does the jargon mean?
Exposure Controls – Aperture, Shutter speed, ISO
Depth of field and Lenses
Controlling Auto Focus
Camera Modes
Week 2:
Review of questions from Week 1
Use of Available Light and what that means
White Balance – how to achieve and why?
Reflected light, color and quality
Transmitted light, hard and soft
Controlling the light
Week 3:
Review of questions from Week 2
Artificial Light Sources
Hot lights & the new florescent lights
Camera Maker Speedlights
Studio type strobes
Ways to modify and apply
#323333;">Taught by Jeff Behm, this class draws upon Jeff's 31 years as a professional photographer with assignments from California to Europe, in addition to 13 years experience as a photographic educator, including the #323333;">Art Institute of Pittsburgh, The Trumbull Art Gallery, The Hoyt Institute of Fine Arts#323333;">, and the #323333;">USW Continuing Education#323333;"> of Warren, OH.