It has always seemed a lovely thing to me to be surrounded by the Amish as we are here in New Wilmington, PA.  In fact, the population around my immediate location is about 2500 Amish to 2500 English (dat's us).
While the Amish Communities in the Lancaster area have always received more attention, it may be for the best, because the Old Order Amish around here have managed to hang on to just a little more of the lifestyle that makes them special in the best possible way.  To that end, and out of respect, I almost never photograph the Amish without their permission, and  give them the opportunity to turn their backs or say "no".   After all, we live amongst each other.
When I heard there was going to be a huge auction earlier this summer, drawing from Amish communities from Indiana, Ohio, New York and eastern PA, I went seeking permission to shoot if I were careful.  They seemed OK with that.  So a little after 8 AM I was out looking around.  Think about it:for all those buggies to be here before 8:00 o'clock, many of them started before 4 AM.  Those coming from outside the area travel by hired car and driver, arrived the night before and stayed with their local relatives and friends.
To me, the parking is always interesting.  There were perhaps 300-400 buggies at two main sites and almost as many more parked around in smaller clumps.  As you'll see, that means unhitching horses, tying or corralling them and parking the buggies.  Across the road were fields for English to park our trucks and cars as well as the transportation for out of state Amish.  The site is the New Wilmington Auction Barn, once wholly owned by the Amish community, but rumor has it, an Englisher may have taken advantage of their trust and wrested control from them.  I am sometimes shocked that they continue to trust us.
One of today's interesting sales was trotting horses for the buggies, the equivalent of a status vehicle in our English culture.  One gentleman reportedly brought 15 trotters over from Lancaster, PA.  There were at least 3 salesmen (2 of whom were English, thus their faces are shown) trotting their animals up and down the road by turns for examination by prospective buyers.  As you can see, it attracts a crowd.  Even the young ladies are out in droves to see what Dad/Husband/beau has planned for the new ride.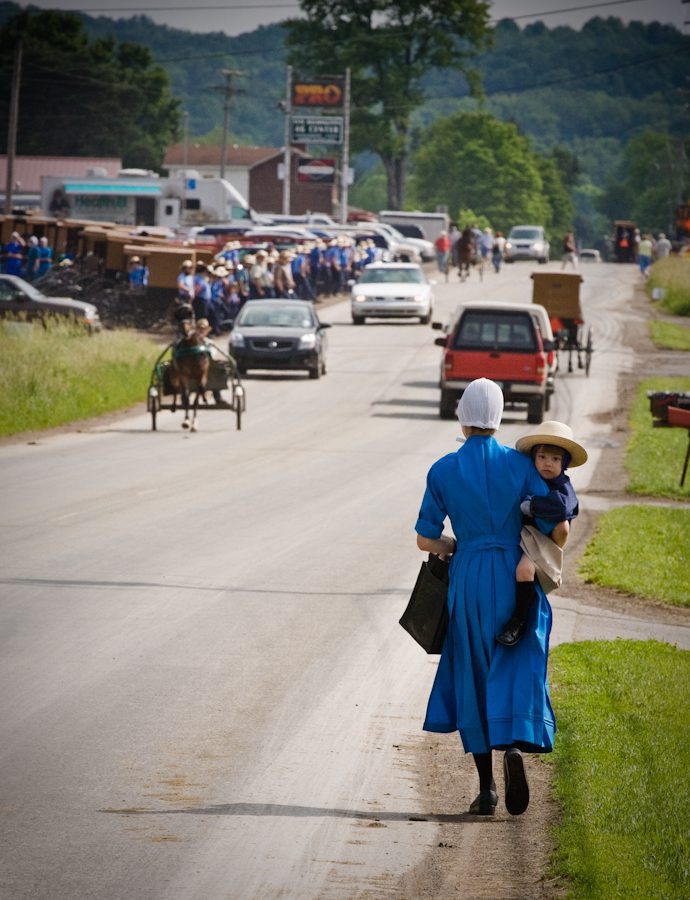 Serving New Castle, New Wilmington, Sharon, Mercer, Grove City, Ellwood City, Butler, Lawrence and Mercer Counties and the western Pennsylvania and eastern Ohio region for 26 years, Behm Photographics is a premier studio, creating fine portraiture for you.  Call 724-730-8513 or email jrbehm@studiob-productions.com.