Staying on top of developments is key to creative businesses
In June I posted about "The Tools I Use".   Among the tools shown were the Godox battery powered studio-type lights.  I have a range of these from an on-camera flash or speed light, the V860 MKII, on up through multiple copies of their AD100, AD200, AD300 and AD600.  In addition, there are two Canon speed lights with attachments that link them to the Godox AD equipment universe, for a combined total of 13 lights of various powers.  From least to most, the differential is about 8.5X more power. That's a LOT!
Why is this important to you?  Because it means we can bring all the tools necessary to complete your job on location, and we can do it much more efficiently than with lights requiring AC outlets and cables all over the set, as we used to have to do. We are thereby reducing tripping hazards and setup time, which is good for both your business and ours.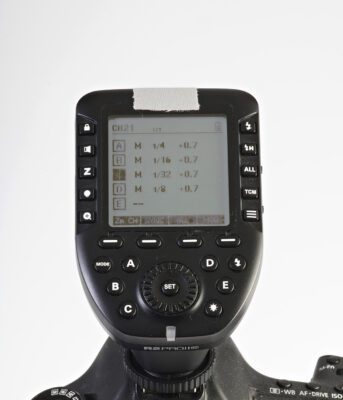 The Godox AD lighting universe is remotely controlled from the camera, improving efficiency and saving time in getting exactly the right ratio of light to make you, your business or your product look it's very best. In our pursuit of the best possible preparedness for our clients, we also test our lighting and camera gear for a multitude of reasons, all having to do with being at our best for you.
A recent article online stated that the newest member of the Godox series, the AD100, had a significant green cast compared to the rest of the series. This caught our attention and led to an extensive series of tests over a couple of days — not only to confirm the accuracy of the article but to seek solutions if it was found to be true.  We also wanted to see if we could determine whether it was universal, and if it affected our own units.
It does appear to be universal
It does appear to be universal. Since our involvement in one of the first articles addressing the issue, there have been numerous owners expressing their concern, and yes, it does affect the units we own.  Since these small lights were purchased for a purpose we didn't wish to abandon, the next step was to find solutions to the problem.
What problem?
What problem you may ask?  Well, when lights of significantly different color castes are used in make an image, the results can throw off the viewer's perception of the subject, unless the colors used are intentional, as we often see with red or blue in an image (see below). The unintended odd colors can attract attention in ways that hurt the impact of the image.  Since our primary business is photographs for the advertising of food, jewelry, other products — plus business portraits — the introduction of a sickly yellow green to skin tones, diamonds or meats does not serve you well.  If that different light balance also strikes our ColorChecker (that panel of color swatches above), it can skew our post processing, creating unnecessary problems with the final image.  Even if we know a particular light is off-color, its impact can still skew the overall balance of the image. Better to deal with the issue in a pre-emptive manner.
After deciding what direction we wanted to move the color balance of the AD100, and the purchase of color correction gels to accomplish those changes, collaborator Sam Levitan and I took the time one recent Sunday afternoon to run a battery of tests using measured and repeatable adjustments and determined the best solution, which has now been somewhat permanently attached to the lights, moving them into much better compatibility with the rest of the line and preserving the overall usefulness of this small light.
And people think we professional photographers just snap the shutter button.
Call 724-730-8513 or email jeff@jeffbehm.com
Jeff Behm Photography — Located in Frederick, MD. — Convenient to Washington DC and Baltimore. Over 3 decades experience. Willing to travel to wherever clients need us.
#food #jewelry #headshots #products